"You never know you need some home appliances until you have them. An ice maker is an example of such."
Forget about the simple ice maker in your freezer, an ice maker is a necessity– you just don't know it. It saves you the stress of storing up ice for large family gatherings or ceremonies. Because you can make ice in large quantity when the need arises.

AGLUCKY Ice Maker Machine for Countertop, Portable Ice Cube Makers, Make 26 lbs ice in 24 hrs,Ice Cube Rready in 6-8 Mins with Ice Scoop and Basket for Home/Office/Bar (Black)
If you are willing to get an ice maker, it's essential to get one with a guarantee of efficiency. Aglucky ice maker for countertop fits this description perfectly.
I have got ample reasons to support my confidence in this ice maker. Care to know? Then this article is for you. It will answer all your queries about Aglucky Ice maker machine.
Let's dive in.
Who Should Buy Aglucky Ice Maker Machine?
If speed is an essential feature you'd like in your Icemaker, Aglucky Ice maker will deliver just that. It has one of the quickest icing tendencies out there. Plus, it's efficient enough to deliver perfectly shaped ice any time.
Features of Aglucky Countertop Ice Maker Machine
Aglucky ice maker weighs 26 lb. It's compact enough to fit into a small space and portable enough for home and office use.
Known for its speed, this ice maker delivers 9 ice cubes in about 6 to 11 minutes. This falls within the range of 26 pounds in 24 hours.
There are 3 color options available: Red, Black, and Silver. If you prefer the red ice maker, you will have to spend more because it's a tad pricier than the other two.
Performance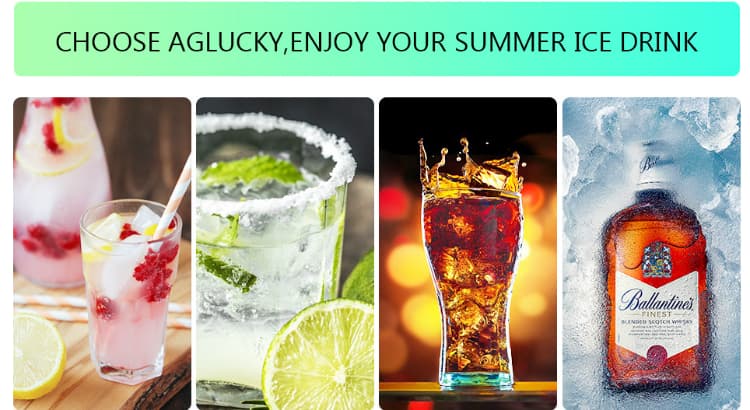 Operating this ice machine is easy as pie. With no technicalities involved, you only need to turn it on, set your ice size and it will get to work.
It has two buttons. One is the power button while the other is to enable you to select the size of your ice cubes. The selected ice size will appear on the LED-backlit control immediately. You have the option to choose one out of two ice sizes. You can either make small-sized cubes that can fit into bottle openings. Or medium-sized ice which has a longer melting period.
Either way, you can make enough ice to cool your cocktails or beverages anytime.
And when the ice basket gets full or the ice maker runs out of water, the machine shuts off automatically. This option makes it easy to work on other things without worrying about the ice basket overflowing or the ice maker running without water. However, it has a LED-backlit display that indicates when there's a water shortage and when the ice bucket is full.
After the machine makes the ice, you need to put the ice into a nearby freezer soon. Because this ice maker has no inbuilt freezer to maintain the ice cubes. But due to the innovative water-use design, any ice you leave in the ice bucket, will melt, and get recycled for reuse.
Aglucky ice maker doesn't require any special installation before use. Although it's advisable to leave it in an upright position for 24 hours before the first use. Experts claim it's better to leave it in a room with an ambiance above 50F and below 90F.
Additionally, the ice maker has a delay time option. The default delay time is one hour, while the delay period ranges from 0.5 hours to 19.5 hours.
Using filtered water with an Aglucky ice maker machine enhances the speed and affects the taste of your ice positively. But you can use tap water as well alternatively.
Regardless of the water, you will always get crystal-like clear ice. But If you do get cloudy ice at any point, it's because of the air trapped while the ice was freezing. Hence cloudy ice from this ice maker machine poses no threat.
Design
Attractive home appliances always add to the aesthetics of your home. You always want to show them off or you just appreciate the nice shade it adds to your kitchen or office. Aglucky countertop ice maker is a physically desirable home appliance.
It looks modern and sleek. You can either put it on your kitchen bench permanently or hide it away. But I seriously doubt anyone would go with the latter.
With a measurement of 12.59 x 12.32 x 8.74 inches, it's compact and portable enough to move around. From home to office or for outdoor use.
Aglucky features a self-cleaning mode which makes the cleaning process a breeze. It also has a large air vent, a drain to get rid of unused water, and a speedy exhaust fan.
Putting water into the ice maker is easier when there is a water outlet close to it. With about 4.4 lb. water tank capacity and a 1.5 lb. ice bucket capacity, you can expect an average amount of ice in one batch.
The ice maker runs on an efficient 110V, 60 Hz compressor making it easy to put it to work all day without any hassle. Despite the powerful compressor, the noise level is lesser than 45 decibels. So, you will hardly hear any noise coming from this machine. Except for the noise, it makes when the ice drops inside the ice bucket.
Moreover, it comes with one-year warranty service and an assurance that its top quality. If it develops any issue during use, you may contact Aglucky customer service who are always willing to help.
How to Properly Maintain Your Ice Maker?
Take out the ice basket
Clean the ice maker's interior with soft clothing dipped in warm water
Clean the exterior with warm water and a mild detergent
Dry both the interior and exterior with a soft piece of clothing
Final Words
You can be one click away from chilled beverages when you have a fast and effective ice maker. With Aglucky icemaker machine for the countertop, you don't need to worry about running out of ice.
Who cares if the freezer can't make you some quick ice when there's an efficient ice maker sitting pretty on your counter?
Read More Our Review: